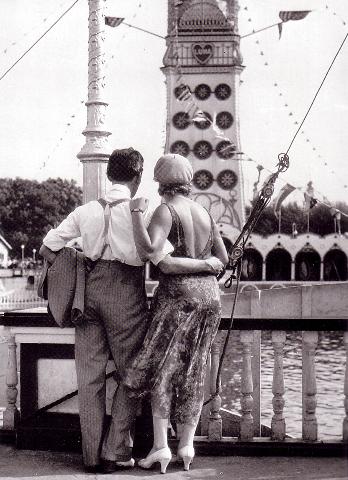 This morning I foun d a site with white and black photos of the life in New York (NY) hundred years ago. I was never there but I like to watch the old photos in the last period.
When I saw the photo you see left here, I suddenly thought that the clothes (and the shoes!!!) did not change much in this period. So I wanted to control my idea looking for the clothes on the popular russian free photo-server where I take often the photos for my posts.
Here you can see the results of my research.
So, the first photo about NY
This is
Coney Island, 1928. Walker Evans
. (That beret with that cloth!!!)
The next photo has to be from 1950, than 1970 (the author wrote that this photo presented in one of photo-exhibitions of Soviet Union was recognized as a photo with low moral). I think these are 60-th, not 70th. Maybe early 70. And finally today.
Finally the last photo has nothing with clothes of all times. I like it's concept and humor :))) LOL The title says that somebody recognized WW as a reincarnation of Apostel Paul.